1935
Company founded by Leonard Yale Goldman.
1940
Known as New England Exterminating and Fumigating Company.
1950
Company changes name to New England Pest Control.
1978
Company opens up a branch in Worcester Market.
1980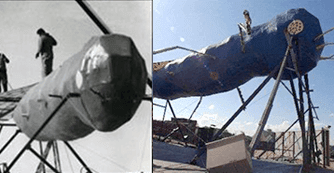 Company changes forever when the Big Blue Bug is created.
1994
The Big Blue Bug makes its Hollywood debut in the feature film Dumb and Dumber.
2012
The Big Blue Bug becomes so famous that the company officially changes its name to Big Blue Bug Solutions.
2014
The Big Blue Bug reprises its role in Dumb and Dumber To.
2016
Big Blue Bug Solutions opens up a branch in South Portland, Maine.