Date Posted: June 25, 2018
Category: Ticks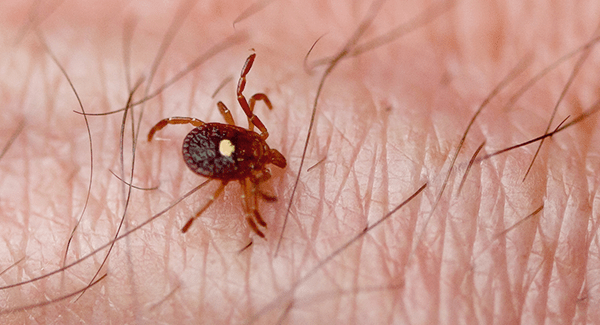 June is here, and with it comes the warm summer weather. After a long winter (and spring), the residents of South Portland definitely won't protest some beautiful sunshine and nice weather. However, it is important for residents of South Portland to know that with the warmer weather comes a multitude of pest threat, one of the greatest being ticks.
Ticks have always been a serious threat to both humans and animals; however, the Center for Disease Control and Prevention (CDC) predicts that insect-spread illnesses such as Lyme disease and Rocky Mountain spotted fever from ticks will triple in the U.S. this year, making ticks a bigger threat than ever before. Different types of ticks are known to carry different strains of diseases; for example, Lyme disease is spread specifically by the deer tick. To add to the list, there has been a recent discovery of new tick in Maine. The lone star ticks, which is known for causing an allergy to red meat in humans, is most prevalent in the southern states but have been slowly spread to the North by migratory birds. The winters in Maine are normally far too harsh for these ticks to survive, but it is thought that the milder winters we have been experiencing in the past couple years may have allowed them to. According to Dr. Marguerite Pennoyer, this red meat allergy, called Alpha-Gal, causes patients to "start to feel that their throat is closing, they may feel weak, lightheaded and often may get nausea, vomiting, respiratory symptoms". Homeowners in South Portland now have even more of a reason to keep an extra eye out for ticks this season.
Perhaps one of the most dangerous things about ticks is the fact that their bites often go unnoticed. If you are bitten, you should seek medical treatment as soon as possible. If bites go unnoticed, the tick-borne diseases they cause will become harder to treat. It's important that homeowners take precautions to limit exposure to ticks and keep them off their family members, pets, and out of their home.
There are several things that homeowners can do to reduce the tick population around their property. To reduce tick populations in your yard, keep your grass cut short and remove wooded areas on your property as much as possible; ticks use these areas as hiding places. It is also helpful to create a barrier of crushed stone around your property to help keep ticks from wandering onto your property. Perhaps the most important thing you can do, however, is to simply perform thorough tick checks on family members and pets after spending time outdoors and before entering the home. Performing these checks will not only determine if you have a tick problem in your yard, but also help you avoid being bitten and, if a tick did attach, allow you to be able to seek medical treatment right away. All these tips can help with ticks, but the most effective way for you to prevent and eliminate any tick issues on your property is to enlist the help of a professional pest control company.
For homeowners in South Portland, Big Blue Bug Solutions is here to help! We offer our customers mosquito and tick control that can come in the form of a one-time service or, as we highly recommend, or a year-round protection plan. We combine a variety of solutions to reduce tick populations by up to 90% all season long! Why spend time worrying about ticks when you could be spending time enjoying the outdoors instead? Contact Big Blue Bug Solutions to learn more about our effective tick services today.