Date Posted: May 4, 2016
Category: Maine Pest Control, Pest Control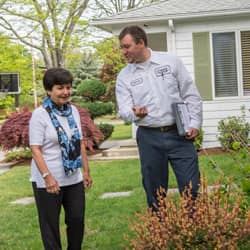 You may be hearing that there is a new pest control company on the block and that we're not from around here - That we're outta state-ahs, or that we're from away - that may have had you talkin' around the suppah table over some chowdah, asking yourself why you would want these fellahs to come to your door yahd and fix your pest problems. Well, the truth is, we ARE from around here. The folks that work here in our South Portland office of Big Blue Bug Solutions work and live in Maine. We're Mainers, just like you. But here is the real reason to love Big Blue Bug Solutions.
The bugs and wildlife that plague Maine are the same pests that plague the rest of New England, and Big Blue Bug Solutions has been protecting homes from these intruders for over 75 years. Our team here in South Portland is drawing upon the experience of Tony Dejesus and the other experts at Big Blue to offer the most effective and responsible pest control available in Southern Maine; and we're looking to make Mainers as happy with their pest control as folks all over New England have been happy with theirs.
"This is the first time using your service. I really enjoy listening to Tony on the radio and wanted you to know that the people you have working for you are the finest! Debbie too (for) our phone call and Steve came for the inspection. We are looking forward to working with your company in taking care of our problem and in the year ahead." ~Maryann and Walter
"I just wanted to take a few moments to let you know that your staff was great. Ron Compellone is a great person and very responsible. He did an excellent job preparing the initial treatment for the big problem with mice that we had. We used to have a lot of complaints from staff in various departments daily, but now it looks like the problem is under control. Mr. Pontes, you're very lucky to have such a great group of people working for you." ~Jim Chambers, Director of Plant Security, Butler Hospital
"As Manager of Custodial Operations, I have the opportunity to work with many different vendors and it is rare for an individual to provide the responsiveness and professionalism that Michel has demonstrated. Over the past two years, any time me or one of my manager's has called Michel, we receive an almost instant call back and we are treated like (Big Blue Bug's) most important customer." ~ Paul Cinq-Mars, Bryant University
At Big Blue Bug Solutions in Portland Maine, we strive for the same great customer care and excellence in pest control that Big Blue is known for. You can trust that you'll always have a knowledgeable and friendly technician show up in your door yahd - And THAT is wicked good, every time.