Date Posted: May 21, 2014
Category: Cockroaches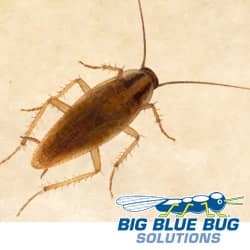 Have roaches been plaguing you this spring? If so, you're not alone! We get a lot of calls from Framingham homeowners that are dealing with these pests in their kitchens, bathrooms and basements. In fact we've received enough calls lately to warrant a blog all about these nasty pests and what you can do to prevent them from infiltrating your home.
What are roaches?
Cockroaches are a common urban pest that is found in Framingham and throughout our service area as well as throughout the country. They are known for spreading diseases that cause gastrointestinal distress in our families. They can also cause asthma or allergies in the very young or very old. The most common roach to be found in our kitchens is the German cockroach, although we also find the American cockroach and the Oriental cockroach inside our homes. Have questions about cockroach identification? Give our Framingham pest control pros a call and we can help you identify the pests that are inside your home.
What can be done to prevent roaches?
Cockroach prevention can be done by regularly cleaning and sanitizing your home. Now that spring is here, performing a deep spring clean around your house can help prevent cockroaches and other pests from finding your home a suitable environment. Here are some good tips to remember when it comes to preventing cockroaches:
Whenever crumbs or spills occur, clean them up immediately.

Clean out your pantry regularly and sanitize your pantry shelves.

Make sure that all food in your pantry is protected from hungry cockroaches by storing it in air-tight containers.

Never leave pet food out for a long period of time. You should also make sure that pet food is stored in an air-tight container rather than a bag.

Pull out the appliances in your kitchen (as best you can without damaging them or the cords attached!) to clean around them and underneath them. Crumbs and spills tend to accumulate in these areas so it is important to clean them out periodically.

Fix any especially damp areas by running a dehumidifier. You will also want to mend leaky pipes and faucets. Cockroaches tend to be attracted to warm and moist environments.
These tips should help reduce the possibility that you play host to a cockroach infestation, but they aren't always totally successful. If you find that you have cockroaches invading your Framingham home, call in the pros.
At Big Blue Bug Solutions, we know how to get rid of cockroaches and can offer effective cockroach control solutions to eliminate these pests. Contact us today to learn more about the services we offer to eliminate these obnoxious and disease-spreading pests and to schedule your first inspection with our MA pest control pros.