Date Posted: December 8, 2017
Category: Veterans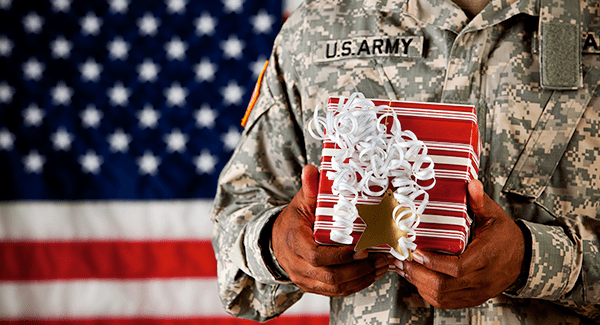 As the Christmas season approaches, the team here at Big Blue Bug Solutions is gearing up for Operation ROVAC, which stands for Remember Our Veterans At Christmas. It is a project inspired by our own Tony DeJesus. Tony saw that many of our veterans were without family or friends during the holidays and he wanted to do something about it. He wanted our veterans to know how much we appreciate their service during this important season. No one should feel lonely at Christmas, but especially those who have sacrificed so much for others.
How It Works
The idea of Operation ROVAC is to remember our veterans by bringing them donated gifts, with the help of the team here at Big Blue Bug Solutions. The community provides the gifts, and we do the delivering. Gifts can be given by individuals or organizations. In the past, we have had support from schools, civic organizations, and religious groups. The outpouring of support has been inspiring.
What You Need To Know
If you want to donate a gift for a veteran, you can drop the unwrapped gift off at Big Blue Bug Solutions Headquarters at 161 O'Connell Street, Providence, RI, 02905.

If you are unable to make it to the office, we can schedule a time to pick the gift up. Call 888-258-3284 to schedule a pickup up or to have any questions addressed.

All gifts need to be received by 5:00 PM, Monday, December 18th.

The gifts will be distributed by Tony DeJesus and the employees here at Big Blue Bug Solutions to more than 180 veterans at the Rhode Island Veterans Home in Bristol on Tuesday, December 19th, at 10:00 PM.
Here are some great gift ideas that have been a big hit in the past:
Socks and underwear

Gloves and scarves

Slippers

Shirts, sweatshirts, and pants

Books

Puzzles
If you or your organization would like to take part in Operation ROVAC, reach out to us here at Big Blue Bug Solutions 888-258-3284. Together, we can bring love and support to the men and women of our armed services who have given so much to defend our country, our communities, and our families. Let's let them know that we remember their service and that we will never forget what they have done for us, or what they have done for the cause of freedom in the world.