Date Posted: April 24, 2022
Category: Fleas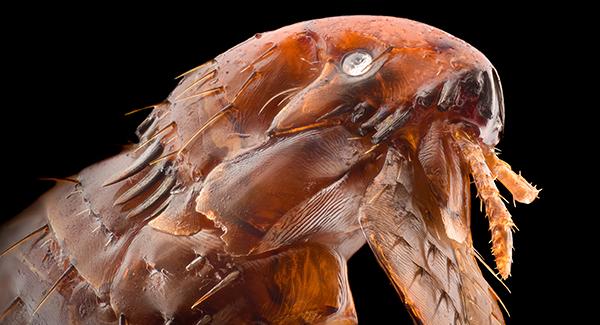 If you don't have pets, you might not ever lend a thought to the idea of a flea in your South Portland home. However, while fleas love the warmth that a pet can provide, pets are not necessary for a home invasion. A flea can infiltrate almost any home environment and spread before you even realize they're inside.
The best way to get rid of fleas in your South Portland home is to give us a call. As a well-known South Portland pest control company, Big Blue Bug Solutions provides pest control you can count on. Pest control In South Portland is a breeze when you have the right people on your side. Protect your family and pets against fleas before they take over your home.
The Lifecycle Of Fleas In South Portland
Before a flea gets to the point where it can become a real nuisance against you and your pets, it has a few different stages that it goes through first. Here are the different life cycle stages a flea has:
Egg (two days to two weeks)

Larvae (five to twenty days)

Pupae (one week)

Adult (two weeks to several months)
Fleas are practically a master class in how to multiply and spread. A single female flea can lay over 20 eggs in a day and have them scattered throughout the home. Because of this, a flea infestation can be hard to deal with and difficult to stop.
The Diseases Fleas In South Portland Can Transmit
Flea bites are where the danger truly begins when it comes to these pests. Fleas feast on their host's blood and as such, they are perfect for transmitting and infecting different diseases. It's one of the reasons you'll want to find out the best way to get rid of fleas in the house when they show up. A few of the different diseases a flea can carry include:
Bubonic plague

Tungiasis

Murine typhus

Tapeworm

Bartonellosis
That's not even all the different things a flea infestation can bring down on you. Flea bites can be extremely dangerous, even if they don't initially seem so. Because of this, you should take action as soon as you suspect a flea infestation might be underway.
Natural Flea Prevention Tips For South Portland Homes
While they might not be the best way to get rid of fleas, there are a few DIY options that can help. Any of these options include different kinds of smells, oils, and sprays. However, you should be aware that just killing a few will not solve the problem. You need total eradication, or the problem will just amass again. You should also keep in mind that many of these DIY tactics don't actually work and can just end up costing you a lot for nothing. So if you should try a DIY, be sure to check the effect it can have from multiple sources.

Your best bet when it comes to flea prevention is to sweep and vacuum your home frequently and frequently wash bedding for both people and pets. Fleas often live in carpets and bedding, so keeping these areas clean may help to prevent a flea problem.
The Trick To Getting Rid Of Fleas In Your South Portland Home For Good
If you want the best way to get rid of fleas in the house, then call the professional team at Big Blue Bug Solutions. We have more than 80 years of pest problem solving under our belts. We have proven over the years that we are a team you can rely on. Don't settle for second best when we're the team for you.
At Big Blue Bug Solutions, we are always available to help you with your pest problems, because no one sleeps well with bugs under their roof. Contact us at Big Blue Bug Solutions for a pest-free guarantee. We will always strive to go above and beyond for you and your family.