Date Posted: November 19, 2013
Category: Big Blue Bug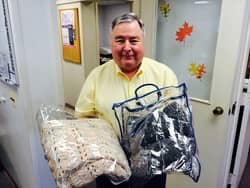 Remember Our Vets At Christmas
Operation ROVAC started 14 years ago by Tony DeJesus, longtime employee of Big Blue Bug Solutions and now more than ever Tony needs your help. If you are interested in getting involved, please bring unwrapped gifts to our office, or if you can't get to us, we will send out an employee to pick up the gifts for you! We then deliver them to the Rhode Island Veterans Home in Bristol, Rhode Island, where the gifts are distrubuted to the more than 250 men and women who live there!
All gifts should be NEW and for men and women. Some suggestions are hats, gloves, scarves, shirts, perfume, after shave, sweatshirts, pajamas, underwear, radios and other items, just to name a few! Gifts must be received by Thursday, December 19th, 2013 at 5pm for delivery on Friday, December 20th at 10am.
If you have any questions, please feel free to contact Tony DeJesus at 401-941-5700 or 1-888-258-3284.