Date Posted: December 12, 2016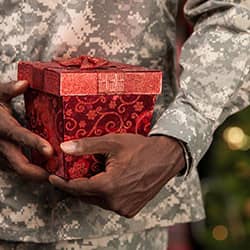 Now is the time of year when we take a moment to thank our friends, families, and community members for their loyalty and support over the years. Without you, we wouldn't be us; but we still have more work to do. We want you to join us in giving back to the veteran community this holiday season. Won't you support our veterans this Christmas? This year, support Operation ROVAC with us for the 17th year in a row.
What is ROVAC?
ROVAC stands for Remember Our Veterans at Christmas. Operation ROVAC is a giving-mission that was started by our very own Tony DeJesus. He has been a longtime employee of Big Blue Bug Solutions, and his mission to give back to the community's veterans is inspiring and generous; but he needs you to help.
Too often, many of our local veterans are left without friends, family, and gifts during the holiday season. For all they do for us, we can't let our hometown vets go without. Leave it to Tony to come up with an idea to make sure their Christmas is just as special as it should be.
How You Can Help
We need you to make a difference this Christmas season in a veteran's life. When you make your shopping list, add a few items for Operation ROVAC. You have just a couple weeks to drop off your unwrapped gift at our home-office.
We are conveniently located at 161 O'Connell St. in Providence, Rhode Island. We will be accepting gifts until December 19th at the close of business. On December 20th, we will be delivering your special gifts to more than 100 veterans this Christmas.
What to Donate
When you make your Christmas list, these are a few of the unwrapped gifts that would make a vet's Christmas merry and bright:
Board games and playing cards
Socks and underwear
Comfy pajamas and slippers
Sweats and sweaters
Gloves, jackets, and scarves
Pants and shirts
Books
Puzzles
Gift sets
Hats
Journals and pens
When to Donate
Don't forget we need your donations by the end of business day on December 19th.
Who Can Donate?
Anyone! We would love to see everyone in the community – including non-profits, businesses, community centers, and religious groups – make a donation to Operation ROVAC. It doesn't take much to donate. You can even make it part of your annual Christmas tradition. Let the entire family get in on the event. The more the merrier.
Remember: it doesn't take much to change someone's life and make their holidays bright. Thanks to our generous community we have been able to make this amazing charity drive a success for 17 years now, and it is that support that will allow continued support for local vets for many more years to come.
If you have any questions, give Tony a phone call or drop him an email at tony@bigbluebug.com. He will be honored to help you find the best gift for a vet this season to celebrate Operation ROVAC. Call us now at 888-258-3284.