Date Posted: May 16, 2018
Category: Mice And Rodents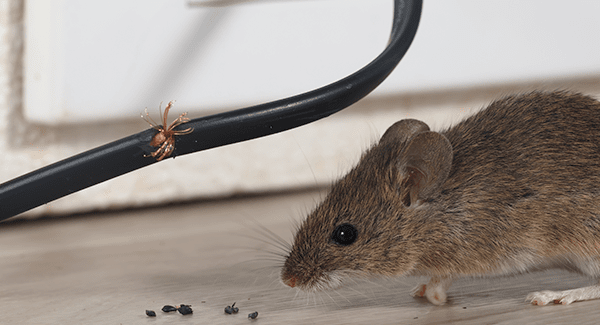 The weather is getting warmer and the snow has melted away, and it is the perfect time for all mice to move out of your South Portland home. While most people believe that when the weather improves mice will just get up and leave on their own, this is simply not true.
So, why are mice still a problem? Let's face it, since they took up residence they have likely had convenient access to water, found a consistent food source, and had an excellent form of shelter from bad weather. Why would they want to move out? It's time to face the fact that mice are a year-round problem and we must treat them accordingly. You won't want them hanging around all year spreading diseases like salmonella and hantavirus. You also won't want to experience the damages mice can cause by chewing the inside of your home, furniture, and personal items. Mice can also cause house fires by gnawing on electrical wires!
Now is the perfect time of year to start doing some mice prevention if you do not already have an active infestation. Here are a few tips to get you started:
Seal off entry points including cracks and crevices in foundations and exterior walls (remember they can enter through a hole the size of a dime)

Repair all broken screens, windows, and door frames

Fix leaky pipes promptly

Keep food stored in airtight plastic containers

Clean up food and drink spills immediately

Take out your trash regularly

Keep outside trash covered with tight-fitting lids

Contact a professional pest control service for assistance for current infestations and to prevent them in the future
If you own a home in South Portland, Big Bug Bug Solutions can help you eradicate the mice that have been plaguing you all winter, and help keep them away. We also take care of other common pests! Our home pest control services have been protecting homes throughout New England for many years. Our programs can help with bugs, mice, wildlife, and other pests. We call our plan "Home Owners Policy" or H.O.P., and it includes control of ants, crickets, earwigs, centipedes, American roaches, millipedes, clothes moths, fleas, ticks, ground beetles, silverfish, Oriental roaches, German roaches, rats, spiders, pantry pests, carpet beetles, bees, and wasps. We visit three times a year for preventative maintenance, and if any issues arise between visits, we return for free! When we do visit we make sure we leave your home as clean as we found it, only cleaner because we help make your home pest-free. Call Big Blue Bug Solutions for more information about our residential pest control program.