Date Posted: December 10, 2012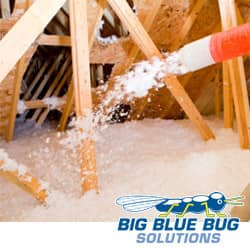 The Rhode Island pest control team at Big Blue Bug Solutions has gone one step further to not only protect your home against pest infestations but also to make your entire home more comfortable. We offer our RI, CT, and MA residents pest control insulation that will not only protect your home against pest infestations but also provide the benefits of a well insulated home. The following are a few of the reasons why you should choose pest control insulation for your home.
Save money on utility costs. By adding pest control insulation to your existing attic insulation or adding it to a home being built, you will be saving yourself money on heating and cooling costs throughout the entire year. The entire home will be more comfortable even when the outside temperatures are at extremes.
Create a sound barrier. Many residents live on a busy road or have busy and loud neighbors that can really put a damper on the environment in your home. But with pest control insulation installed in your home, you will enjoy the added benefit of the insulation absorbing the sounds you do not want to hear on the outside.
Go green. Not only is the pest control insulation great at creating a more comfortable home but it is also environmentally friendly. Made out of recycled materials, you will also be doing your part to reduce your carbon footprint while enjoying a well insulated home.
Protect yourself from unwanted pests. Of course, pest control insulation will help to protect your home from unwanted pest invaders no matter what time of the year. The insulation is made of a natural fiber, borate which controls pests such as cockroaches, ants, and other insects.
For more information on Big Blue Bug Solutions pest control insulation in Rhode Island as well as Coventry pest control, MA pest control, and pest control services throughout our entire service area, please contact us today!