Date Posted: December 22, 2015
Category: Big Blue Bug, Fall Pests, Summer Pests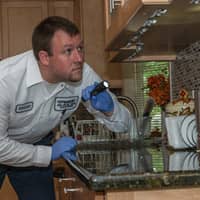 Pest management can be very challenging to the extent that homeowners can become overwhelmed and not even know what to do or how to treat these uninvited nuisances. There are different varieties of pests for each season with each pest requiring different treatments and methods of eradication. As an industry leader, Big Blue Bug Solutions recognizes the daunting task of maintaining a pest free home and provides homeowners peace of mind with year-round pest protection.
During late fall and winter months, you will more than likely experience an influx of house mice or even Norway rats. Rodents begin searching for ways to escape the elements of winter weather and are much more comfortable in your home or garage. In the springtime, you will notice armies of ants marching across the lawn and working their way into your home as they begin foraging for food. There is also an increased chance of cockroaches showing up during the spring and summer months. Other summer pests include beetles, spiders, flies, fleas, and mice. The fall season can include a continued infestation of the above mentioned pests along with an increased activity of hornets, yellow jackets, and box elder bugs. Add pantry pests and the ongoing concern of termites to the list and you will understand how overwhelming it can be to keep a home free of pests.
It is easy to see why Big Blue Bug Solutions is the industry leader for pest management. Our New England family-owned and operated pest control company has been protecting homeowners from unwelcome pests for more than 75 years. Our innovative and highly skilled technicians have developed a home owner's policy, to cover most household pests.
HOP will give you the pest protection needed regardless of the time of year. We provide this peace of mind through the HOP program with three visits each year. Those visits will consist of inspections and preventative treatment of unwelcome household pests. You will also be provided with ongoing monitoring of the more susceptible areas where one could expect pest infestation problems.
In the unlikely event of an unexpected pest problem arising in between those visits and preventative treatments, Big Blue personnel will come to the rescue at no additional charge. In other words, if the pests come back, so does Big Blue Bug. There is no question that contacting Big Blue Bug Solutions is your best bet for year-round protection from those pesky household pests. Ask about HOP when you call us today!