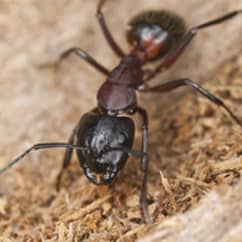 What are carpenter ants?
Carpenter ants are a large species of ant that is very common in Rhode Island and Massachusetts. They nest in wood and in large numbers they can cause significant structural damage.
What do they look like?
Carpenter ant workers are about 1/8 to 1/2 an inch long, depending on which specific species you are dealing with. They can be all red, all black, or a combination of red and black. Carpenter ants in the house are often those large black ants you see wandering about.
Do carpenter ants bite?
Carpenter ants can bite, but they rarely bite humans and they are not venomous. When they do bite it does not cause any damage.
Are carpenter ants dangerous?
Carpenter ants do not spread diseases or infections; however, they can still be dangerous. The danger with carpenter ants comes from the fact that they make their nests in wood. If they choose your home for their nest, they can cause serious structural damage.
What are the signs of a carpenter ant infestation?
An indication that you have carpenter ants and not another species of ant is small holes in the wooden structures in your home. These are the openings where the ants go into their nest. There is often a small pile of sawdust below the openings.
Why do I have a carpenter ant problem?
The ants most likely found their way into your home while foraging for food. When carpenter ants infest a home, it is most likely a satellite colony that has established there because of the warmth, safety and nearby food sources.
How do I get rid of carpenter ants?
Getting rid of carpenter ants is extremely difficult. The source of the infestation must be found and the entire colony must be eradicated. If you only eliminate the satellite colony, they will most likely find their way back in and re-infest your home. The best way to take care of an ant problem is to call a pest control professional. For homes or businesses in Providence, Shrewsbury, or elsewhere in Rhode Island, Massachusetts and Eastern Connecticut, call Big Blue Bug Solutions today.
Carpenter ant prevention tips from Big Blue Bug Solutions
To prevent a carpenter ant infestation, make sure all food sources are eliminated. Store all leftovers in tightly sealed plastic containers and immediately clean any spills or messes. Also, seal any possible entry point from outside, such as ripped screens or openings around pipes and vents. If this is not enough, call Big Blue Bug Solutions today for a quote on carpenter ant control. You can also check out our blog for more information on carpenter ants in Rhode Island and New England!
Helpful Carpenter Ant Articles
What Do Carpenter Ants Look Like?
Are Carpenter Ants Active In Winter?
What Should I Do If I Find Carpenter Ants On My Property
Things Every South Portland Homeowner Should Know About Carpenter Ants
Carpenter Ants: The North's Version Of Termites
Why Carpenter Ants Invade Worcester Properties
The Problem With Carpenter Ants On Your Portland Property
How To Tell If Your Portland Home Has A Carpenter Ant Problem
Help! There Are Carpenter Ants Around My South Portland Property