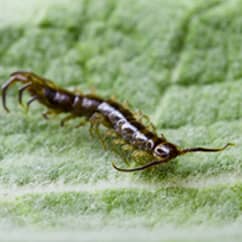 What are centipedes?
Centipedes are very common pests in Providence, Worcester, Johnston, and throughout Rhode Island and Massachusetts. Many people assume that centipedes are insects; however, this is not the case. They are actually small arthropods. Although their name literally means "hundred legs", they can have anywhere from 20 to over 350 legs. Centipedes feed on small insects such as silverfish, cockroaches and beetle larva.
What do they look like?
Centipedes are very flat creatures and can be between 1/8 of an inch to over 6 inches long, depending on which exact species you are dealing with. They are generally yellowish to brown in color.
Do centipedes bite?
Yes, centipedes can deliver a painful bite.
Are centipedes dangerous?
Although centipedes are venomous, they do not pose any real harm to humans. While their bite can be painful, it will not cause serious damage.
What are the signs of a centipede infestation?
The only accurate way to know if you have a centipede infestation is to look for the pests themselves. Centipedes enjoy areas of high humidity, so look in areas like the basement and the bathroom.
Why do I have a centipede problem?
Centipedes most likely found their way into your home while foraging for food or while looking for a damp place to hide.
How do I get rid of centipedes?
Keeping insect populations in your home at low levels will help, as this is what centipedes feed on. However, in most cases professional help is needed. Contact Big Blue Bug Solutions to find out how we can control the centipedes in your Providence, RI, home.
Centipede prevention tips from Big Blue Bug Solutions
Lowering the humidity levels in your home is key to making it less attractive to centipedes. Running a dehumidifier in the basement can help with this. Also, check your yard and the outside of your home for dead and rotten logs, wood, or lawn clippings, as these are perfect harborages for centipedes.
Related Centipede Articles