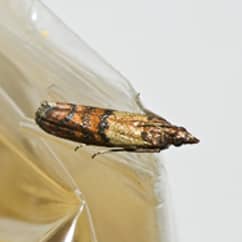 What are Indian meal moths?
Indian meal moths are the most common of the stored product pests, or pantry pests. They infest many common kitchen materials, especially grains. Some of their favorite meals include:
Cornmeal

Flour

Nuts

Bird Seed

Dog Food

Raisins

And More
Indian meal moths breed extremely quickly, with a female laying up to 400 eggs in a matter of a month.
What do they look like?
Adult moths are 1/4 to 3/8 inches in length and are generally bi-colored, with half of the wings being a very light brown to cream color and the other half being dark, almost bronze colored. The larvae are about 1/2 inch long and are white with a brown head; however, they can be tinted pink or green, depending on what they have just eaten.
Do Indian meal moths bite?
No, Indian meal moths will not bite a human.
Are Indian meal moths dangerous?
The only danger that comes from Indian meal moths is in eating food that they have contaminated.
What are the signs of an Indian meal moth infestation?
The most important sign of an Indian meal moth infestation is clumps in the infested food. Clumps are formed by the webbing of groups of larvae. In serious cases, you may actually see larvae hanging from the ceiling and adult moths flying around your kitchen. If you have found a worm or moth in your home but don't know what species you are dealing with, Ask Nibbles!
Why do I have an Indian meal moth problem?
Most pantry pest infestations occur when already infested materials are brought home from the grocery store. They find their way into cereals, pasta, dried fruit, and other common products in search of food.
How do I get rid of Indian meal moths?
Indian meal moths are very hard to treat for because of the ease with which they breed. A female can lay hundreds of eggs in a matter of days from the time she hatches. In almost every case a professional pest control company is needed. Big Blue Bug Solutions has been helping homes and businesses in Providence, Shrewsbury, and throughout New England with stored product pest problems for over 75 years. Contact us today for more information.
Indian meal moth prevention tips from Big Blue Bug Solutions
Carefully inspect any products at the grocery store before you buy them. Do not buy anything that is not sealed or has been torn open. Also, store all products in tightly sealed plastic containers to prevent moths from getting into your products once they have been opened. For more tips and information on pantry pest control, contact Big Blue Bug Solutions online.
Helpful Indian meal moth articles
Common Pantry Pests Found In South Portland Homes