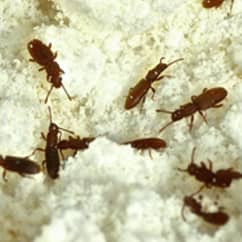 What are saw toothed grain beetles?
Saw toothed grain beetles are small insects that very commonly infest grain products in homes and businesses throughout Worcester, Providence, and all of New England. Some of their favorite meals include cereals, pasta, dried fruit, candies and nuts. Their name comes from the six saw-like projections on either side of their thorax.
What do they look like?
Saw toothed grain beetles are very small, only reaching about 1/10 of an inch long. They are very flat and are brown in color. Their extremely small size even allows them to get into sealed packages. The larvae stage is a white grub with a brown head.
Do saw toothed grain beetles bite?
No, saw toothed grain beetles will not bite humans.
Are saw toothed grain beetles dangerous?
Saw toothed grain beetles do not pose any direct damage to humans; however, any foods they have infested should be considered contaminated and thrown out.
What are the signs of a saw toothed grain beetle infestation?
In serious cases of infestations of saw tooth grain beetles, the pest will be visible when you open the product.
Why do I have a saw toothed grain beetle problem?
Most grain beetle infestations are the result of already infested products being brought home from the grocery store.
How do I get rid of saw toothed grain beetles?
Saw toothed grain beetle infestations are very hard to deal with due to the wide variety of products that they infest. In most cases, professional help is required. Contact Big Blue Bug Solutions today to find out more about the pantry pest treatment options we offer.
Saw toothed grain beetles prevention tips from Big Blue Bug Solutions
It can be very difficult to prevent infestations of stored product pests. Carefully inspect any products at the grocery store for rips or broken seals and avoid any products that appear to have been opened. If this is not enough to keep these pests out of your home, give Big Blue Bug Solutions a call today!
Helpful saw toothed grain beetle articles
Common Pantry Pests Found In South Portland Homes
Which Beetle Is Living In Your South Portland Pantry?
What To Do About Grain Beetles In Southern Maine