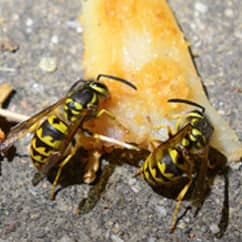 What are yellow jackets?
Yellow jackets are small, stinging insects that are actually beneficial when they are not bothering humans, as they help keep down populations of other insects and spiders. Unlike many other stinging insects, such as wasps and hornets, yellow jackets prefer to nest on the ground; however, their nests can also be found in attics, barns and other places.
What do they look like?
Yellow jackets are black with yellow markings on their body. They are 3/8 to 3/4 of an inch long and at rest their wings are folded along their body.
Do yellow jackets bite?
Yellow jackets do not bite; however, they do have a very painful stinger on their abdomen. Unlike bees, yellow jackets do not lose their stinger, making them able to sting repeatedly.
Are yellow jackets dangerous?
As with all stinging insects like bees, hornets and wasps, yellow jackets can be dangerous if the victim is allergic to the yellow jacket venom.
What are the signs of a yellow jacket infestation?
Unlike most other stinging insects, yellow jackets prefer nesting on the ground; if the insect nest you are trying to identify is on the ground it is most likely a yellow jacket nest. However, yellow jackets will nest other places as well. If you are having trouble identifying the pest you are dealing with, upload a picture and ask Nibbles for help!
Why do I have a yellow jacket problem?
There are many reasons a yellow jacket nest may be built on your property. Nearby water and food sources is a major reason they choose their nesting sites.
How do I get rid of yellow jackets?
It is very difficult and potentially dangerous to try to get rid of yellow jackets on your own. The Rhode Island pest control professionals at Big Blue Bug Solutions have the experience and training necessary to properly deal with the yellow jackets on your property. Contact us today for more information about our effective pest control services in Providence, Worcester, and throughout New England.
Yellow jacket prevention tips from Big Blue Bug Solutions
Unfortunately, there is nothing you can do to prevent yellow jackets from nesting on your property. New queens emerge every spring and begin looking for nesting sites. Check the outside of your home and seal all possible entry points to keep them from getting inside.
Helpful Yellow Jacket Articles
Why Stinging Insect Infestations In Rhode Island Require A Professional Treatment
What Attracts Stinging Insects To New England Homes?
How To Prevent Stinging Insects Aroudn Your Maine Home During Spring And Summer