A Local Icon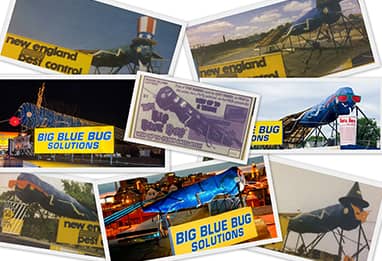 In 1980, after moving to a new building along Interstate 95, our company's leadership had an idea to put something unique on top of our roof. That small idea turned into the world famous Big Blue Bug.
Constructed of steel and covered with fiberglass, the Big Blue Bug is an exact replica of an Eastern Subterranean Termite, also known as Reticulitermes flavipes. It is 58 feet long, 9 feet tall and weighs 4,000 pounds!
The Bug was originally painted purple, the color of a live termite swarmer under a microscope, but the sunlight soon faded it to blue. It became so well known as the "Big Blue Bug" that we decided to keep it blue.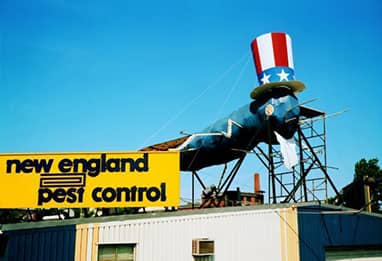 It quickly gained local, national and international fame by its uniqueness. The Big Blue Bug has appeared in a number of movies and television programs, including:
Dumb and Dumber

Dumb and Dumber To

The Today Show

The Oprah Winfrey Show

The Daily Show

Family Guy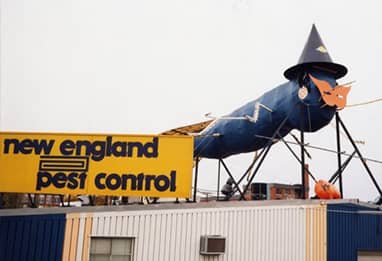 Many books and comic strips have also included Rhode Island's unofficial mascot, such as:
Zippy the Pinhead

Bosquet

Providence by Geoffrey Wolff

Roadside America by Mike Wilkins, Ken Smith, and Doug Kirby

Weird New England by Joseph Citro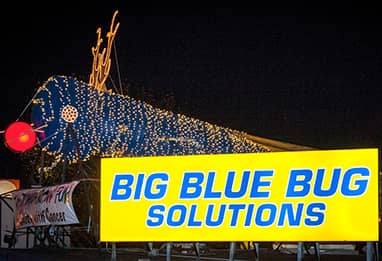 A picture of the Big Blue Bug is part of a mural at the Denver International Airport, and a painting of Nibbles hangs on the wall of a luxury hotel in Europe. It was even featured on a Rhode Island scratch-off lottery ticket!
In 1990, we held a contest to give the Big Blue Bug an official name. Geraldine Perry of Tiverton, Rhode Island, submitted the winning name: Nibbles Woodaway. The name was a hit because termites eat wood!
Nibbles often dresses up for different holidays and celebrations. The biggest costume each year is Rudolph for Christmas. The Bug is wrapped in Christmas lights and wears antlers and a blinking red nose. Before the Rudolph costume is revealed, there is always an annual lighting ceremony featuring a special guest to do the lighting honors. It has become a Rhode Island tradition, similar to the Rockefeller Tree in New York City.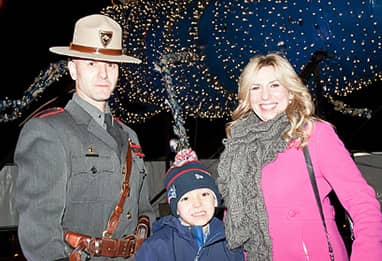 In June of 2002, The Bug left the roof of our office for the first time. It was refurbished and repainted to a more vibrant blue color. Before returning to the roof, Nibbles took a road trip, making 5 stops along the way (Bristol's 4th of July Parade, the Benny's in Warwick, Roger Williams Park Zoo in Providence, the Wakefield Mall, and Cardi's Superstore in Swansea, MA) so his many fans could see him up close in person.
Nibbles Woodaway built up such a great reputation that on April 9, 2012, we finally did what our fans had been asking us to do for quite some time. We changed the name of the company from New England Pest Control to Big Blue Bug Solutions. A proper name to represent our local icon!
If you want to hear more about the Big Blue Bug, contact our office at 888-258-3284. We always love to talk about our famous mascot!