Date Posted: November 21, 2012
Category: Carpenter Ants, Pest Prevention Tips, Termites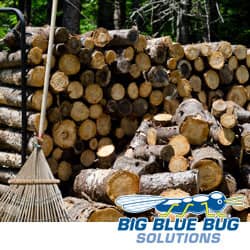 When it comes to winter in New England, there's one thing for certain, a fireplace is quite handy to have. Not only can you keep your energy bills down and take away the chill of the cold, cozying up in front of the fire is an excellent way to pass a winter night. But if you are like many, the location and placement of your firewood could be attracting pests into your home, some posing serious threats. So to help those in Providence, RI; Shrewsbury, MA and elsewhere in New England avoid pest problems that result from having firewood inside or near the home, the RI pest control pros at Big Blue Bug Solutions would like to share a few tips.

1. Keep the firewood stacked at least 20 to 30 feet away from the exterior of the home. By keeping the firewood inside or close to your home you are increasing the threat of pests infesting your home. Insects and even rodents that hide in woodpiles are likely to enter small cracks, holes, or other openings when too close to the home.

2. Firewood should not be touching the ground. In addition to stacking firewood well away from the house, It is best to keep firewood up off the ground so that it is harder for pests to access it.

3. Keep a cover over the firewood not only to keep it dry for easier burning but dry wood is less enticing to some wood destroying pests. It is usually moist and decaying wood that subterranean termites and carpenter ants are after so always have a durable cover. Or better yet, build a wood shed that is specifically designed to keep your wood safe from pests and dry.

4. Only bring in enough firewood for the current fire. Although it is a lot easier to bring a large stack of firewood inside this is a great opportunity for any pests to start roaming through your home. And in the case of wood destroying pests, this is not a good thing as there is plenty of wood throughout the home that they can destroy.

5. Never treat firewood with pesticides. If you do happen to notice pests on your firewood, the worst thing you can do is treat the wood with pesticides. This will cause most pests to burrow into the wood, which means it is not effective and then even worse, when you go to burn the wood you are releasing those chemicals into your home.

So before you go lugging in that next batch of wood, make sure that you are staying proactive to avoid the danger of wood destroying pests like termites and carpenter ants and also avoid the other creepy crawlies including spiders and beetles. Fires are a great way to stay warm and cozy in your home during the cold winter months as long as they do not introduce pests.

For anyone living in Providence or elsewhere in Rhode Island, Massachusetts or parts of Connecticut, if you believe that your firewood is to blame for pest problems or you aren't sure how insects or rodents found their way in but regardless need help exterminating the problem then be sure to give us a shout today! Our team of professionals can quickly identify the infestation and provide safe and effective treatments so that your home is once again pest free!