Date Posted: August 6, 2019
Category: Carpenter Ants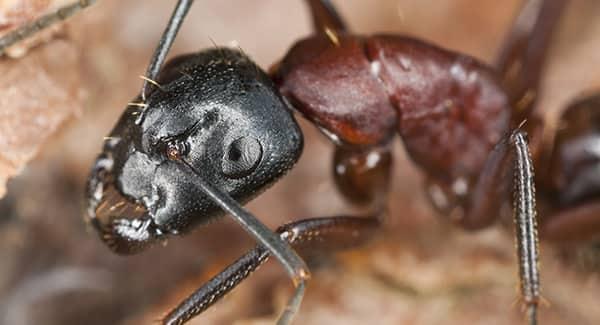 One of the bonuses of living in Maine is not needing to worry about termites. However, we do need to worry about other wood-destroying insects, such as carpenter bees and carpenter ants. Both pests can cause significant damage to South Portland homes. It's always a good idea to take precautions against any pest that can cause structural damage to your home, and carpenter ants are no exception. At Big Blue Bug Solutions, we are your local experts on wood-destroying pests. We can provide a comprehensive inspection and treatment plan to keep your home safeguarded against carpenter ants.
What are carpenter ants?
Carpenter ants are large black ants that prefer to live in wood. Unlike termites, carpenter ants don't eat the wood, they just use it for their home. Carpenter ants tunnel through the wood to make their nests and expand their colonies. As they do so, they create tunnels pushing the wood out of their way.
What kind of damage do carpenter ants cause?
As carpenter ants create their colonies and tunnel through the wood, they destroy the structural integrity of the wood. Carpenter ants can stay active for years, expanding their colonies. The more they tunnel and expand, the greater the chance of real damage to your home.
What signs should you look for?
It's a good idea to perform regular inspections of your home to look for signs of carpenter ants. You may see black ants as they scurry about, which is a good sign that they have a colony nearby. If you notice small holes in your deck, window trim, porches, sheds, play structures, and any other unfinished wood, you may be seeing signs of carpenter ants. As they displace wood while they tunnel, they create piles of wood shavings that look like sawdust. If you see this in conjunction with holes, it's a good indication that you have carpenter ants.
Why call for professional pest control?
Save yourself the headache of trying to repair the damage that an infestation of carpenter ants can cause. It's much less of a hassle and much smarter to have a prevention plan in place to stop the damage before it starts. At Big Blue Bug Solutions, our year-round pest control plans can keep your Maine home free of carpenter ants and other wood-destroying pests. Call us for an inspection if you suspect carpenter ants in your South Portland home.