Date Posted: September 17, 2019
Category: Residential Pest Control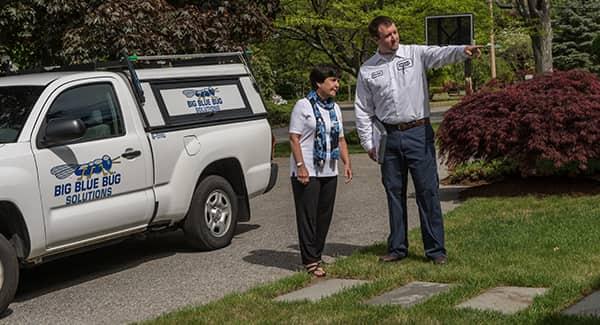 Whether you are a longtime homeowner in Shrewsbury or have recently purchased a home, you should have a professional pest control service taking care of your property.
Homes, even well-maintained homes, can attract a wide range of pests in New England. A professional pest control technician who regularly visits your home is likely to recognize the early signs of an infestation. Trained technicians know what to look for, where to look, and what steps should be taken to eliminate pests and reduce the likelihood that they will return in the future.
You could spend a lot of time and money trying DIY solutions, but in the end, these are often ineffective. Professional pest services have access to the latest and most effective solutions to your pest problems.
How to Find the Best Pest Control Company
There are several things to look for when considering which pest control company to hire.
Look for a company with a long and established history. This is a competitive business, companies that have been around for a long time have a history of satisfied customers.

Look for a company that offers a range of services. Shrewsbury homeowners don't just have to deal with ants and roaches. They sometimes have to deal with carpenter ants, termites, wildlife, and more. You want a company with the expertise to handle any pest that's bothering you.

Look for a company that puts customer service first. For example, choose a company that can give you a time window when technicians will arrive and that will call you to let you know they are on their way.

Look for a company that is active in industry associations. These indicate that they keep up with advances in the industry and have passed inspection.
Why You Should Choose Big Blue Bug Solutions
Big Blue Bug has been in business for 80 years and we're happy to say that we have been satisfying customers the entire time.
We offer a complete range of services for homes and commercial customers. Whether you're dealing with bed bugs, bats, spiders or cockroaches, we can help.
We offer Blue Glove Service, the best customer service around. We offer two-hour windows so you don't wait around all day for us. We notify you when we're on the way, and our technicians wear blue gloves and booties when they enter your home to help keep it clean.
We are accredited by the Better Business Bureau and have an A+ rating. We're also members of the National Pest Management Association and the New England Pest Management Association.
We'd love to be the pest management company for your Shrewsbury property. If you are experiencing any kind of pest problems, give us a call! We are standing by to help