Date Posted: April 16, 2021
Category: Ants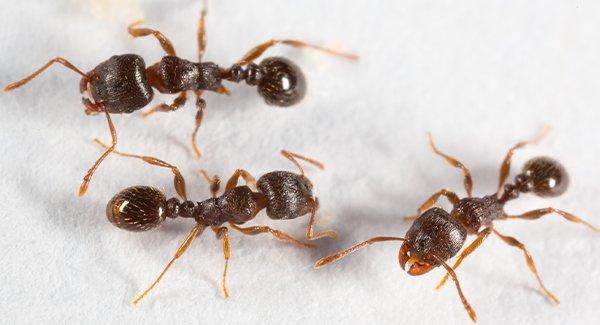 Oh, the places ants go – in the ground, on your sidewalks, and even underneath your driveway! Pavement ants are a pest species that Milford residents are all-too-familiar with. Invaded properties may notice an annoying ant nest or two propped up:
Underneath sidewalks
Next to or beside driveways
Near in-ground patios or decks
Close to concrete supports
What's the best way to identify a Milford Pavement ant? Why paying attention to insect behavior of course!
Look for tiny 2.5 to 3-millimeter ants that travel in large lines
Colonies usually mound dirt between the cracks of pavements or on top of driveways
Winged male 'swarmers' may appear during June and July
There is a silver lining to these frustrating pests: Pavement ants aren't considered to be physically dangerous to the humans they bother. People, pets, and the household property is safe from the prying mandibles of these Milford ants.
Yet, it should be noted that Pavement ants can still be problematic, especially when infesting lawns or surrounding properties. For one thing, pavement ants invade in large numbers, which makes their control extremely challenging. For another thing, pavement ants are extremely hard to eliminate using typical types of DIY (do it yourself) pest control. Ant mounds are protected by layers of asphalt and concrete, limiting homeowner access. Worse, these pests will simply 'split' under the high-intensity pressure of human harassment. Split colonies will separate into multiple new nests through a process known as 'budding off.' Unless you address household pavement ant problems quickly, you are likely to be facing a frustrating problem in the years to come.
Milford Pavement Ant Prevention Tips (That Actually Work)
Some of the best pavement ant prevention steps for Milford homeowners begin with being mindful of current surroundings. Any signs of ant swarmers, nesting sites, or feeding lines should be enough to clue you in to potential problems. If pests do becoming too difficult to handle, moving immediately to a professional pest control agency will be your best option. However, if you have so far remained clear of rogue ant activity, you are still in the clear for using prevention steps. After all, intentionality is more than half the battle! Here are some ways to keep pavement ants from wandering to close around your Milford lawn:
Remove attractant factors from outside the home, especially food crumbs, garbage bags, and water puddling zones.
Keep the lawn well maintained by mowing grass often, trimming trees regularly, and pruning back vegetation as often as necessary.
Ensure that pest access to your home is limited. Plug up any gaps and cracks in walls, and keep an eye on home foundations for any signs of deterioration.
Interested in receiving a trained home inspection? Book a household visit with the crew at Big Blue Bug Solutions to quickly and accurately assess your home's pavement ant safety.
Trusting The Team At Big Blue Bug Solutions Will Win The Battle And The War
Pavement ants are certainly very difficult to get rid of, even with prevention steps in place. If you are looking for error-proof pest control with an expert team of friendly professionals, contact the team at Big Blue Bug Solutions right away.
Pest control isn't for the faint of heart, and our highly trained team of expert pavement ant eliminators are anything but weak. Please feel free to call us, visit us, or book an inspection with us online today to get the help you deserve as soon as possible. From all of us at Big Blue Bug Solutions, we can't wait to get and keep you safe!