Date Posted: July 20, 2016
Category: Bed Bugs, Maine Pest Control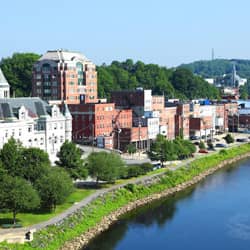 Bed bugs are a difficult pest to deal with, and they become even more difficult to deal with when multiple people and residences are involved in the extermination process, such as in the case of many rental properties. Having ordinances in place to protect all people involved is very important, and recently in Augusta, Maine, the city's emergency bed bug ordinance was revised. We believe that these revised changes are a positive way to help control bed bugs and rid them from any rental property as quickly, safely, and successfully as possible!
Big Blue Bug Solutions wants to provide you with a quick overview of the new Augusta ordinance and what it means for property owners, managers, and tenants.
One of the biggest changes to the ordinance is that the new rules apply to all rental properties. Singles homes, mobile homes, and duplexes will all follow the same rules as large apartment complexes.

Tenants must work together with landlords and pest control professionals to take steps to prepare their home for treatment and to allow pest control experts access to their home.

A tenant that does not fully cooperate with their landlord and pest control professionals may be subject to pay for additional and/or on-going bed bug treatments.

Tenants must notify their landlord if they see bed bugs or suspect a bed bug infestation and are not to try to treat them on their own. This part of the ordinance is basically trying to avoid tenants from trying DIY bed bug solutions that don't work and only drive bed bugs into other tenant's homes or deeper into their own home!
This revised ordinance should greatly help to control bed bug infestations in a faster manner and help to prevent a large-scale bed bug infestation from spreading throughout Augusta. By tenants, landlords, and pest professionals working together bed bugs will be eliminated as quickly as possible, along with the stress that both tenants and landlords feel when bed bugs are present!
For more information about the new ordinance, about bed bugs, or how the bed bug professionals at Big Blue Bug Solutions can help to control bed bugs throughout southern Maine through our residential or commercial bed bug control services, contact us today. Big Blue Bug Solutions has the answer to any bed bug problem; whether you have a large or small infestation, we can work with you to develop a customized bed bug control plan to solve your specific problem!