Date Posted: December 16, 2016
Category: Pest Prevention Tips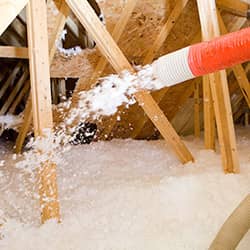 Whether you are building a new home or renovating an old one here in Massachusetts, there is a product that you can incorporate into your plans that will help protect your home from pests while keeping you toasty warm, saving you money on energy costs, offering superior sound proofing qualities, and reducing your home's carbon footprint – and you can purchase this amazing product right here at Big Blue Bug Solutions. What is this effective and affordable product that can accomplish so much all at once? It is pest control insulation.
The pest control insulation that we use is a natural fiber, borate insulation made from no less than 80% recycled paper making it one of the 'greenest' choices in home insulation options; and once installed, the energy savings will be noticeable right from the start. Not only will this insulation deter pests such as cockroaches, termites, ants, and silverfish; but it can also protect you from pantry pests and other insects that are attracted to your home when mice invade and leave stores of food inside wall voids and attics. Other benefits when you choose pest control insulation rather than ordinary run-of-the-mill insulation include no post-installation waste and reduction of noises from inside and outside of your home.
Pest control insulation from Big Blue Bug Solutions is the best product choice for Massachusetts property owners when building a new home, when adding extra insulation, or when replacing old, out-dated insulation. It only makes sense to 'kill two birds with one stone' and deter pest infestations while saving money on energy bills with high-quality, effective home insulation.
The pest control fight here in Massachusetts is complex and is never easy, which is why we take notice when a new technology offers such amazing quality and results. This is one of the most exciting and innovative breakthroughs in pest control in recent years and we are so pleased to be able to offer this product to you.
When you want the very best pest control options available, turn to the team that thousands of your friends and neighbors here in the Northeast have trusted for more than 80 years – Big Blue Bug Solutions. To learn more about this amazing, innovative solution or any of our other industry-leading pest control solutions from the pest control experts here at Big Blue Bug, give us a call today.