Date Posted: January 9, 2017
Category: Pest Control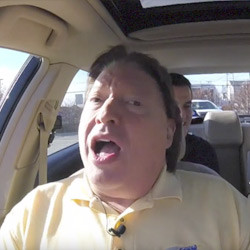 The team here at Big Blue Bug Solutions was working hard through the holiday season. Bugs and wildlife do not take a holiday, and neither can we. But that didn't stop us from taking a short break to have a fun Car Pooling Sing-along with Ben DeCastro and some friends here in Rhode Island.
You might recognize some of the faces, and voices, in the merry sing-along. Allan Fung, mayor of Cranston was there. We had Meredith, Brian, and Amanda from Cat Country 98.1. Comedian Frank O'Donnell of Heavenly Gingers, and Mary Larsen from Wicked Rhody. And, you probably know Doreen Scanlon, Chelsea Priest, Alana Cerrone, and John Deluca from ABC6 New. But, whether you know them or not, you're sure to get the holiday season tickle when you watch. There is something magical that happens when those joyful songs start to play. Smiles form. Giggles begin. And the car begins to fill with holiday cheer!
If you love watching people act goofy to festive music, this is definitely a video to watch, but we wanted to share this with you for more than just a holiday laugh. We think it shows a little bit of an insight into who we are as a company. Just because pest control is serious business, doesn't mean it has to be "all" serious.
Sure, when you have a Big Blue Bug Solutions technician show up at your door, you can expect someone who is trained in the most advanced pest protocols in the industry, and your technician is going to be equipped with state-of-the-art equipment for treating pests and recording pest control information, but that's not all we're about. Our technicians aren't afraid to let their hair down and be a little goofy--when it is appropriate--and they bring that fun spirit with them when they go on call.
At Big Blue Bug Solutions, we're more than just a professional pest control company. We're a team of highly educated pest specialists who love what they do and aren't afraid to bring a smile when they go on location.
So, whatever holidays you celebrated this holiday season, we would like to wish you a very happy New Year from all of us here at Big Blue Bug Solutions. And, remember that we're here through every season to help you protect your home or business from damaging and harmful pests.