Date Posted: January 29, 2016
Category: Big Blue Bug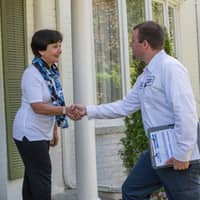 We've probably all heard the words, "Don't worry what they think about you," at some time in our lives. While changing ourselves simply to meet the expectations of others can have the negative effect of turning us into someone we don't want to be, there are some instances when it is good to worry about what other people think of you. At Big Blue Bug Solutions, we want to do a good job. We want to have a good reputation. We want to know that the work we are doing is having an impact on the people we serve. This has caused us to drive ourselves toward excellence in every aspect of our business. Our team strives to be the most educated, the most helpful, and the most professional pest professionals in the business.
We want to make a good impression. That's why we show up at your door with a clean vehicle, a clean uniform, and take extra precautions to keep your home or business clean as we work. One of our customers wrote us and said, "Steve Heaney came to our house for a check-up today and I was immediately struck by the cleanliness of his uniform and truck despite the dirty situations he must surely encounter." We love hearing feedback like this.
There are other ways to make a good impression besides being clean and professional. This message from a client shows that fast and honest services can really affect what people think of you.
"One day last month I saw hundreds of flying bugs coming out of a spot where my house's foundation meets my patio. They were very unnerving and I worried that I had termites - flying termites. After googling them, I knew I had to call someone. Who but the Big Blue Bug people, right? It was about 4:00 in the afternoon. I phoned and got an appointment for between 8:00 and 9:00 the next morning. At 8:15 your technician, Phil, called and said he was on his way. He arrived promptly afterward and looked at the baggie full of bugs that I had collected. He instantly knew what they were and much to my delight he proclaimed them citronella ants! He gave me a short lesson on the physical differences between ants and termites and told me that no treatment was necessary...Not only was your company available immediately, but Phil was prompt, courteous and very knowledgeable. I was also impressed that he did not try to sell me a treatment that I did not need."
At Big Blue, we love hearing our customers use words like, "pleasant, professional, informative, and courteous." We work hard to have people write us and say, "job well done," or "I was 110% satisfied with the service that I received from your technician." We care what you have to say about us, it drives us to excellence.
If you're curious to see more of what people are saying about us, take a look at our testimonials page. Our reputation matters to us. That's why you can expect prompt, courteous, honest, and experienced pest service from Big Blue Bug Solutions. Every time!