Date Posted: July 8, 2021
Category: Commercial Pest Control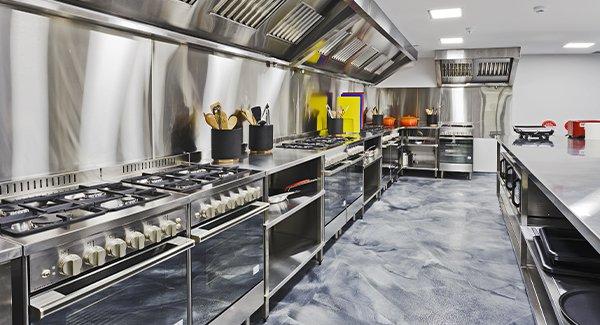 Big Blue Bug Solutions have been in business serving New England since 1935. We know bugs! Better yet, we know New England bugs, and how to keep them out of your business. We are a company of locals serving locals. And because we are locals, we frequent the very businesses that we serve. We want to see our communities thrive, and our families grow. Big Blue Bug Solutions' contribution is a bug and rodent-free community, keeping us all safe and healthy.
Who We Service
Being a business owner is difficult enough without having to worry about pest infestations. Employee problems, vendors, and grumpy customers are enough headaches for anybody. So, let's not add on more problems by inviting pests to the party. Let's talk about the types of businesses Big Blue Bug Solutions currently has as customers:
Quick service and full-service restaurants - Rodents and roaches are scary words to a restaurant owner. Even a whisper of one of these words, and they'll scare off all your customers.

Hospitality industry - Any pest would cause a problem in the hospitality industry, but bed bugs are the kiss of death. One post on social media could ruin you.

Health care - The hygiene standards in health care are very strict, and with good reason. Roaches, for example, are known to trigger asthma attacks. That is the last thing a compromised person needs in your facility.

Distribution centers - Not only are you responsible for large quantities of merchandise and correctly shipping it, but you are also responsible for ensuring that the cargo is pest-free in route and upon delivery.

Food processing facilities - There is zero tolerance for pests in this environment. Your customers deserve it, and regulations demand it.

Educational facilities - Parents need to trust that the place that their child spends the day is clean, safe, and pest-free.
Pests Are Bad For Business
Nobody needs to tell you that pests are bad for business. It used to be word of mouth or the health inspector, but nowadays social media makes it possible for someone in another county to read reviews online and decide if you are the right business for them, without so much as a drive-by to check you out. It doesn't matter if the reviews are legitimate or jaded in any way, only that they are now out there. Of course, we should never let our business be hijacked by angry customers, but if there is a hint of truth to a pest problem, this could be enough to substantially affect your business. The common pests that plague businesses are rodents, roaches, silverfish, flies, bed bugs, and ants. Not only do you lose business, but now you also face the costs of sterilization. One other possible outcome is the possibility of lawsuits, but we won't talk about that.
Proactive Pest Control Is The Cost-Effective Approach
If you have been unlucky enough to experience an infestation, you understand that the cost of pest removal is far greater than a bi-weekly or monthly service plan. Closing down your business while the pests are exterminated and the entire facility is sanitized is very expensive. Not to mention the customers that you will never get back. Remember that rodents and bugs outnumber us, by staying ahead of mating and nesting cycles your business should remain pest-free.
Pest-Free is Stress-Free
A partnership with Big Blue Bug Solutions can keep your Worcester business pest-free, and ease owner stress. We will arrange a service schedule that suits your needs, and is most effective for your type of business. Our Bar Code Monitoring System complies with USDA, FDA, and AIB regulatory requirements. We can email detailed reports directly to you with our inspection findings. Call today for a free estimate for our pest control and prevention services.