Date Posted: December 31, 2015
Category: Mice And Rodents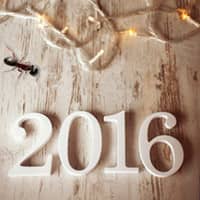 There are many New Year's traditions in the United States, but perhaps the most widely observed tradition is the New Year's Resolution. Have you ever made one? Have you ever chosen to swear off something that is bad for you or promised to introduce something into your life that is healthy and good? The New Year's Resolution is single-handedly responsible for millions of gym enrollments each and every year. And, probably, equally as responsible for nearly the same number of cancellations two months later. Well, here is a New Year's Resolution you can stick to: make your home pest-free in 2016. Why is this a resolution you can stick to? Because, you can get someone else to do it for you. You can't hire someone to do push-ups, sit ups, leg lifts, and pull ups. If you want to get fit, you have to do all those "ups" yourself. But, with pest control, you can actually hire someone to do the hard work for you. Here are some other reasons to have Big Blue Bug help you with that New Year's Resolution.
Pests are hard to get to:
If you already have pests living in your home, there is a good chance they are in your wall voids. Most bugs and wildlife use wall voids to move throughout a home. That means, unless you have x-ray vision or specialized training and equipment, you're going to have a hard time eradicating those pests.
Time is money:
You probably already have a job, right? So, the last thing you need is a big project to deal with. Not only does it take time to seal up all the cracks and holes, it takes time to research all the pests that can be infesting your home. There are some pest control measures that work for multiple pests, but each pest is different! No single strategy will work for all the pests in your home. That means you're going to spend countless hours researching each pest.
The right tools for the job:
Do it yourself pest projects often come up against a brick wall. Some tools that are needed to properly detect pests and treat for them are just too expensive to have in your home arsenal, and some pests can only be controlled with products professional companies have access to.
Unseen Threat:
One of the most insidious problems with DIY pest control is that often a homeowner thinks they took care of the problem, but they only treated the visible signs. Take mice, for instance, become trap shy and can continue to move about a home, contaminating food prep surfaces and storage areas, without alerting anyone to their presence. This results in continued illness that is mistaken for the flu or the common cold.
Let Big Blue Bug Solutions help you keep this year's resolution. Start 2016 off bug-free and stay bug-free with expert pest control from a leader in the industry. When you have bugs, Big Blue Bug Solutions has the solution.