Date Posted: April 10, 2012
Category: Big Blue Bug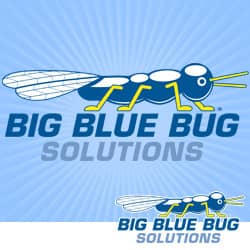 There's been an extreme makeover taking place around here and we are proud to announce our company's name change and launching of our new website! Offering effective home and business pest solutions in parts of New England for over 75 years, New England Pest Control has become Big Blue Bug Solutions. We will still be serving New England homes and businesses with the most comprehensive pest control services available, just under a new name.
To go with our new name, we decided to get a website make over as well! Our new website has a clean design to feature both our new name and to make it easier to learn about which pest control solutions will be best for you. Whether you need pest control services for your home, your business, or are just curious about certain pests, it's all here!
Some of the cool new features of our website are:
Pest ID: The pest identification page uses high quality pictures of all the pests found in the area along with descriptions to identify which pests you are seeing and then learn about their behaviors, treatments, and prevention methods. This is useful to help both home and business owners avoid pest threats, such as illness and structural damages.

Ask Tony: Our pest expert can answer any and all of your pest control questions.

Blog: Full of fun and useful information…on pests, to help you learn more about our services as well as some great DIY pest prevention tips.
We hope you enjoy these changes as much as we do! For Rhode Island, Massachusetts and parts of Eastern Connecticut who are looking for quality pest control services for their home or business, contact Big Blue Bug Solutions today.