Date Posted: August 4, 2015
Category: Big Blue Bug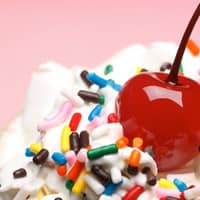 I just love to see a company that genuinely cares about its community and actually takes the time and money to give back. Such is the case with Big Blue Bug Solutions as they teamed up with Newport Creamery to throw an ice cream party on July 23rd. Neighborhood kids lined up for a free ice cream at Big Blue Bug – a truly refreshing treat for such a warm summer day! Rumor has it that there were even gummy worms to be found amid the frosty creamy treats! A great time was had by all, and there wasn't a smile missing as Nibbles Woodaway made his way through the excited swarm of children while they devoured their cold concoctions.
"Who is Nibbles Woodaway?" you may ask. Well, he is a hard to miss icon along I-95 in Rhode Island. He has perched proudly atop the Big Blue Bug Solutions building to watch as cars pass and bugs fly by since 1980. This Awful Big, Awful Good giveback was a fitting tribute to a community that has helped launch Big Blue Bug from a small, local company in 1935 to New England's leading pest control company today. And I am happy to say that this wonderful gesture of kindness and concern is not the exception when it comes to Big Blue Bug, but, rather, it is the rule.
With a reputation for unmatched pest control services that dates back nearly 80 years, Big Blue Bug has a longstanding tradition of protecting our homes and businesses with all our pest control issues. Not only that, they are focused on environmentally responsible approaches to pest control in an effort to protect our ecology too!
So the next time you are faced with your pesky pest issues that need a professional's help, keep Nibbles Woodaway in mind and call on the folks that care about you and your community. It doesn't matter if you need help with ants, bats, bed bugs, bees, cockroaches or termites, because Big Blue Bug is trained and certified to deal with over 39 different species of pests in our neighborhoods. They surely can be counted on to do an Awful Big, Awful good job for you.