Date Posted: November 27, 2013
Category: Big Blue Bug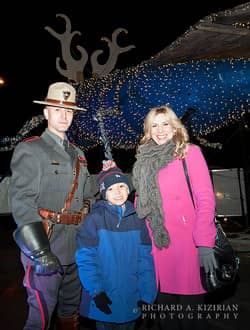 The 21st annual holiday lighting of The Big Blue Bug was Monday, November 25th. This year, we were privileged to have Boston Marathon bombing survivor Heather Abbott, her 8-year old special friend Drystan McClain* and Rhode Island State Police Trooper Roupen Bastajian do the honor of flipping the switch for the annual ceremony of lighting up (7500 lights) the Big Blue Bug for the holidays. Trooper Roupen Bastajian ran in the Boston Marathon and then when the bombs went off, ran into the aftermath and saved multiple lives.
Providence Mayor Angel Taveras and Rhode Island State Police Colonel Steven G. O'Donnell were also on hand for the festivities and offered a few words.
To view the album of the evenings events, please visit us on Facebook.
*Heather has said that a very special friend is 8-year-old Drystan McClain of Middletown. Drystan, learned of Abbott's injuries and knew she was from Newport. He had been in the hospital because he has a cyst on his brain that leaves him prone to seizures. He reached out to her and they met and a special bond developed.