Date Posted: December 15, 2015
Category: Carpenter Ants, Mice And Rodents, Pest Prevention Tips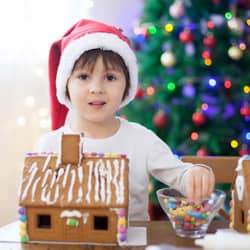 No one ever sang this song. Ever! Because finding bugs in your Christmas decorations is not a subject to celebrate, and certainly not an event to write a song about. If you have ever hauled taped-up, cardboard boxes in from the shed or garage, or perhaps down from the attic, and were surprised to find bugs inside, we're sure you did not feel like singing--maybe yelling and being thoroughly grossed out by spiders or other creepy crawlies--but certainly not singing.

New England Winter Pests

Here in the Northeast, the most common pests that tend to make their way into our homes include the Asian lady beetle, elm leaf beetle, box elder bug, brown marmorated stink bug, and cluster fly. Also some wasp queens, especially paper wasps, will overwinter in attics and wall voids near the roofline. Then there are the furry kind; mice, rats, squirrels, and raccoons, to name a few. In this article we will focus on some things you can do to try to keep your home from being invaded by overwintering pests, and what you can do if you discover your home is already infested.

Pest Exclusion Tips

There are a number of steps a homeowner can take to reduce the chances of having bugs take up residence inside their homes.

Outdoor Tips
Make sure your doors seal well. If light can be seen around a door, insects can get in.
Inspect all your screens and repair or replace those that are damaged.
Make certain that all soffits and gable vents are sealed.
Inspect your home for gaps or cracks around pipes, air conditioning units, etc. and seal those gaps using a caulking gun.
Clear out all gutters.
Remove standing water in your yard.
Keep all trash in tightly sealed containers.
Keep your garage doors closed as much as possible.
Trim vegetation and tree limbs away from your home.
Store woodpiles as far from your house as possible and on a raised platform.
Indoor Tips
Check for plumbing leaks and seal gaps around pipes.
Caulk around bathtubs and toilets if needed.
Make sure your attic, crawl spaces, and other areas are kept clutter free.
Thoroughly clean and vacuum on a regular basis, paying close attention to where food particles are present.
Store all food items in the refrigerator or in sealed plastic containers.
Only leave pet food down at meal times.
Storing Holiday Decorations

If you've been surprised by bugs in your decorations, doing the following will ensure this will not happen in the future. First, make sure you are not storing food items. However, if you have something you just cannot bear to throw away, like your child's first gingerbread house; you will want to seal it tightly inside Ziploc bags. Second, store all decorations in tightly sealed heavy duty plastic bins. Taking these precautions will prevent any surprises next year.

If you've done all you can to keep pests out, but you discover that insects or furry pests have invaded your home; give Big Blue Bug Solutions a call. Our pest control experts will work with you and make sure that your home is pest free. Keep pests out of your Christmas decorations and your home. With Big Blue Bug, you can deck your halls with bug-FREE holly.

Fa la la la la… la la la la…..