Date Posted: July 8, 2016
Category: Maine Pest Control, Mosquitoes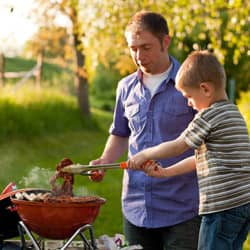 Here in South Portland, we love our summers. The winters in Maine can sometimes stay a lot longer than we'd like, and when the days start warming up, we want to get outside. And, they don't call Maine Vacation Land for nothing! It is beautiful out there in our slice of nature!
The first place that we're going to get out into nature is right in our own backyards. After spring cleaning is done, there are a ton of ways to enjoy the backyard. You might have a pool that you like to take full advantage of for the three months of hot weather we have. You might get out there and do some gardening or tend your flowers, or your backyard might be a place where you do cookouts, sing around a fire pit, or play badminton. Whatever you use your backyard for, there is a good chance that mosquitoes will try to take part in your activities.
While mosquitoes are definitely dangerous creatures in other parts of the country, there are really only two diseases that are endemic in Maine: Eastern Equine Encephalitis and West Nile virus.
Encephalitis causes fever, headache, lethargy, neck pain, and an inflammation of the brain. West Nile virus causes fever, headache, body aches, and a skin rash. These are definitely two illness no Mainer wants to deal with, but mosquito-borne diseases are not the only reason to kick these pests out of your backyard. Mosquitoes bite!
If you like spending time out back, it is time to take your backyard back. At Big Blue Bug Solutions, we offer services that work to reduce mosquitoes on your property. Our team will identify areas that allow mosquitoes to breed and hide in your yard. Then, through a process of larval control, breeding site reduction, and adult mosquito control, they will work to make your yard a whole lot nicer place to be.
Mosquitoes don't generally go very far from where they hatch. If they hatch in your yard and are able to find a blood meal, they will be happy to stick around and munch on you, your family, and your pets. While mosquito reduction won't keep all the mosquitoes out of your yard, it can go a long way to reducing bites in many circumstances--obviously, there are outside factors that can improve or inhibit mosquito reduction efficiency. But, in most circumstances, this service makes a big difference.
Find out if mosquito services will work for your property. Give us a call and we'll send someone over to help. Your backyard is for having fun, not for being eaten alive by mosquitoes and Big Blue Bug is the best choice for all South Portland's pest control needs.