Date Posted: April 12, 2016
Category: Carpenter Ants, Maine Pest Control, Mice And Rodents, Mosquitoes, Pest Control, Termites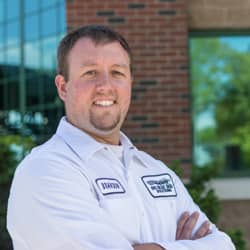 South Portland, Maine—Big Blue Bug Solutions, known throughout New England for our industry-leading pest management services, is expanding into Southern Maine. While residents in Rhode Island are familiar with Big Blue Bug, partly because of the giant blue termite, (affectionately known as Nibbles Woodaway) sitting atop our business in Providence, the Big Blue Bug is something new for folks in Portland, Maine, but Big Blue Bug Solutions hopes that won't last long. We strongly believe that pest control something that can add to their quality of life for everyone. It is a vital service that all home and business owners should have, and we're looking to provide cost-effective solutions for residents in and around South Portland, Maine.
Bugs and wildlife can cause significant problems if they get into places they shouldn't be in. Rodents chew holes through walls and wires creating a fire hazard. They get into trash bins then scurry across food prep surfaces in the kitchen creating the conditions for stomach illnesses that are often mistaken for the flu. And, like all furry creatures, mice and rats often have parasites such as lice, mites, ticks, and fleas which they carry into all parts of a home as they search for food.
If you live in Portland, Maine, we don't have to tell you that carpenter ants are a problem. These pests take full advantage of homes that use wood as a heating option. These pests damage porches, decks, sheds, and outbuildings throughout the entire state.
When temperatures drop, it is common for skunks, raccoons, woodchucks, squirrels, and other woodland creatures to take up residence under porches, decks, patios, and other structures. Since these creatures are mostly a nuisance, they will not usually be taken care of by state-run Animal Control services. When animals invade, it is up to home and business owners to hire a professional to safely remove them.
Maine is also all too familiar with the plague of mosquitoes and black flies. While there isn't much that can be done about those black flies, mosquito abatement can have an impact on mosquitoes and their ability to spread diseases. This is a vital service, especially considering the fact that Maine is one of the worst hit states for the West Nile virus which has claimed over 1,000 lives in the U.S. over the last decade.
Whether it is wood-eating termites or disease-spreading cockroaches, frustrating chipmunks or the trauma of a bed bug infestation, pests can be a big problem. If you live in Portland, Maine, take a look at what Big Blue Bug Solutions has to offer. We have comprehensive packages to help homes and businesses control and manage the harmful effects these creatures can have, and we have over 80 years of experience that taught us how to do it right.