Date Posted: February 12, 2016
Category: Big Blue Bug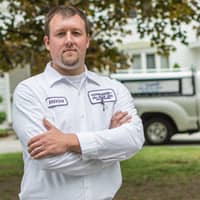 Many people today are looking for that ideal job or position with a company that provides a lifetime career. You want a company that is well established, has a great reputation, and is aggressively expanding. The product and/or services provided by this company should always be needed and never become outdated or obsolete.
Look no further—Big Blue Bug Solutions is all of that and more. Formerly called New England Pest Control, our family owned and operated company has been providing effective solutions to pest problems for more than 75 years. We have a longstanding tradition of protecting homes and businesses from troublesome pests throughout Rhode Island, Massachusetts, and Connecticut. Pest infestation always has been and will continue to be a serious issue. The employees here at Big Blue Bug Solutions are highly trained with environmentally safe solutions and take great pride in the services we provide to our clients.
A growing company is a hiring company and Big Blue Bug Solutions is exactly that type of company. We are consistently growing and currently hiring with a variety of interesting positions available in Providence, Rhode Island, and Shrewsbury, Massachusetts. If you are an honest, hardworking individual who is looking for a new career, Big Blue Bug is looking for you and has a variety of openings now available. If you aren't just "looking for another job," contact Big Blue Bug today.
Perhaps you enjoy working with wildlife management; yup, we've got that. Or maybe you are ideally suited to be a pest control technician; have that too. If employee management skills are your strength, we also are looking for a Human Resource Manager. Is a career in sales your strength? If you are a natural salesperson but just don't have the product or position to fully utilize the abilities and talents with which you are blessed, we've got that covered too. Big Blue Bug Solutions may just be the perfect fit for you.
At Big Blue, you will find the security of a longstanding, established company—one that is always growing and expanding. The reputation of Big Blue Bug Solutions is unmatched in the pest control industry. Our company is fully licensed and insured and is continually educating and informing technicians with seminars that keep employees up to date on the most recent changes in the pest control industry.
Many know Big Blue Bug Solutions by the big blue termite icon on the roof. Others know them from their Saturday morning radio show that is always educating people and answering their pest questions. Multiple thousands know them from the incredible reputation of reliability and superior service. Perhaps it is your turn to know us as a part of the Big Blue Bug family. If you are looking for a new career with a company of this caliber, contact Big Blue Bug today for an interview…you will be glad you did.