Date Posted: October 14, 2019
Category: Bed Bugs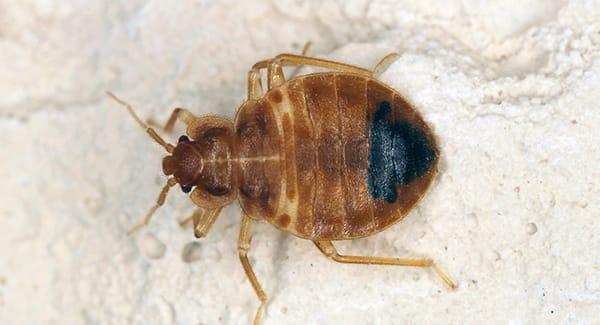 They want to suck your blood!
No, these aren't the vampires or werewolves from a horror movie, but real-life insects that want nothing more than to feed on you and your family forever.
Bed bugs are carnivorous insects that primarily feed on human blood. Found in locations all over a home, bed bugs can take up residence in beds, outlets, electronics, cushions, and other small areas. Their favorite places to live are in large dwellings where their food sources live, including college dorms, apartments, and nursing homes.
Bed bug infestations may be difficult to spot without a trained eye, but one of the most common indicators are red itchy bites. Popping up in small clusters around the skin, bed bug bites normally appear in a straight line or cluster that remains puffy for several days. Other infestation signs include rust-colored excrement spots, a musky or sweet odor, and exoskeleton husks in piles around the house. Chronic or prolonged infestations can lead to numerous issues, including anemia.
How to Check for Bed Bug Signs
It's extremely difficult to prevent bed bugs from settling in your home because of their propensity to catch a ride on anything or anyone who happens to come in. Knowing what to look for before you are exposed is the first step towards staying safe from potential infestations.
Check all luggage before entering the house after returning from vacation.

In hotels, store all suitcases up high and off the ground. If necessary, use the bathtub.

Wash and dry clothing on the highest setting after vacation, whether or not they are dirty.

Do a quick smell check. If something smells funny, it may be time to look for other signs of a bed bug infestation.
No matter how careful you are, bed bug infestations are still possible, especially during the high-travel summer season. If you think or know that bed bug activity is present in your home, reach out to the best pest control company in your area for help.
Big Blue Bug's Bed Bug Solutions
Bed bugs are a dangerous pest variety that can cause serious distress for homeowners. The only way to truly get rid of an infestation is to rely on the expertise of pest-fighting professionals such as those found at Big Blue Bug's Bed Bug Solutions.
Serving New England since 1935, Big Blue Bug is proud to offer the people of Rhode Island some of the most effective, efficient, and responsible pest control methods on the market today. Our bed bug control solutions will have your home secured from pest activity as soon as possible, giving you the peace of mind you need for the highest quality of life. Contact us today.