Date Posted: September 22, 2016
Category: Maine Pest Control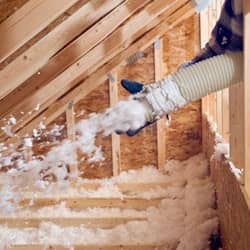 New England homes are commonly invaded by bed bugs, carpenter ants, mosquitoes, ticks, termites, as well as wildlife pests. Keeping the nuisance pests away from your home and yard sometimes requires help from professional pest control technicians. Now, there is a new product that will not only help eliminate common insect infestations, but it will also save you money on your energy bills at the same time! Pest control insulation offers many benefits to South Portland Maine residents.
What is Pest Control Insulation?
Pest control insulation can replace the existing insulation in your home, or be added to your attic or crawlspaces, or be used when building a new home in place of traditional types of insulation. It's made from a natural fiber, borate solution, and is 80% recycled.
Pest control insulation will help control:
Cockroaches

Termites

Ants

Silverfish

Pantry pests
Additional Homeowner Benefits of Pest Control Insulation
In addition to its ability to control pest infestations, pest control insulation offers a number of benefits to homeowners in South Portland, Maine.
Green Insulation Option
Pest control insulation is made from 80% recycled paper, which is a green option for insulating your home. It reduces your home's carbon footprint, saves energy, and requires no post installation waste.
Reduce Heating and Cooling Bills
Adding pest control insulation to your existing insulation or installing it in your new home as it is built will reduce your heating and cooling bills.
Create a Sound Barrier
Pest control insulation creates an effective sound barrier that helps reduce outside noises from disturbing your family indoors. Things like dogs barking or horns honking on the road will not be as loud as they would sound without the insulation. Additionally, pest control insulation prevents sounds like the toilet flushing or loud music from traveling from one room to another within the home.
Contact Big Blue Bug Solutions today to learn more about pest control insulation and how it can benefit your home in South Portland, Maine or throughout the states of New England.