Date Posted: July 27, 2012
Category: Pest Prevention Tips, Summer Pests, Ticks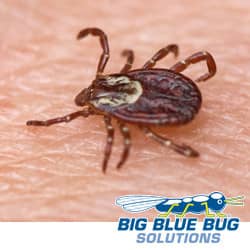 The weather in New England this summer has been a perfect storm for ticks to thrive. Deer ticks require humidity to stay alive and this summer has proved to be hot and humid. In a typical summer weather pattern, there are enough dry days to kill off a lot of the ticks but this year that is simply not the case. A URI entomologist warns us that "deer tick numbers in Rhode Island are up 80 percent over 2011 levels and 142 percent above the previous 5-year average".
So what does this mean to you? With deer ticks being on a dramatic rise, there is a significantly higher risk of contracting Lyme disease and other tick-borne illnesses. Whether just in your back yard or on your next hiking or camping trip, it is time that residents in Rhode Island and across New England get tick smart! By learning how to avoid ticks from biting you, your family, and even your pets, you will be able to avoid any dangerous encounters with these blood sucking insects.
How to prevent tick bites:
Perform daily tick checks. Visit our previous blog: Prevent Ticks from Spreading Lyme Disease for a step-by-step guide on performing effective tick checks.

When going outside into areas that are wooded or have tall grass, wear long clothing to cover the skin and protect yourself from tick bites.

Wear an insect repellent that contains DEET or other tick defending ingredients.

Keep your pets protected by staying up to date on their tick medications.

Keep your lawn well maintained, free of tall grass and other overgrowth which make it easy for ticks to hide out and wait to latch onto a host (you or your pets).
If you are concerned that your property in Rhode Island has a tick problem then it is best to call in the RI pest control pros at Big Blue Bug Solutions. Our tick control services will identify the source of your tick problem and help to control the numbers in ticks on your property so that you are not at such a high risk for tick-borne illnesses even when the summer is seeing dramatically higher tick numbers. Big Blue Bug Solutions also serves parts of Massachusetts and Connecticut. Contact us today for more information on deer ticks.