Date Posted: January 31, 2019
Category: Maine Pest Control, Residential Pest Control, Stored Product Pests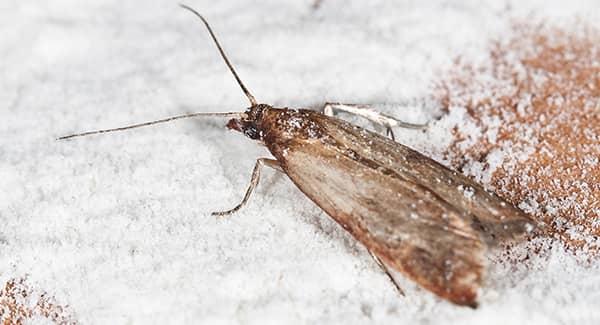 There is nothing worse than preparing for a day of cooking and baking, only to find bugs hidden in the food that has been stored in your kitchen or pantry. Most of the time these stored product pests come into your home in packages that have already been infested either at the grocery store or the manufacturing plant where the food was processed. Whichever way these pests invade your food, it can be a horrific sight for sure.
Why are they there? They were likely looking for a place to lay their eggs so that once they become larvae they will have enough food readily available to survive.
Problems Pantry Pests Cause in South Portland
These stored product pests, more commonly called "pantry pests", are usually found invading cereal, pasta, dry fruit, and other stored dry food products. The most common pantry pests are the Indian meal moth and the saw-toothed grain beetle. Neither one of these pantry pests can bite or cause any serious health problems. They do, however, contaminate food, causing homeowners to throw out the entire package. Would anyone continue to use a product if it were infested with moths and beetles, including their eggs and larvae? We think not!
If you have discovered pests in your kitchen or pantry, you need a professional to perform an inspection, assess the infestation, and handle the situation. Professional pest control can guarantee favorable results.
How to Keep Pantry Pests Out
If you want to try to avoid pantry pests in your South Portland, Maine, home, follow these household tips:
Check all of your dry foods on a regular basis.
Get rid of expired, rotten, and infested foods.
Place newer groceries behind older ones.
Store all dry foods in sturdy, air-tight containers.
Keep your cabinet shelves clean.
Use wire shelves, if possible.
Keep your pantry and other areas where food is stored dry and cool.
Professionals Can Get Rid of Pantry Pests
The best solution to get rid of an infestation and to avoid pantry pests is to get in touch with the experienced pest professionals at Big Blue Bug Solutions. Our professional technicians take care of all pests, big and small.
Our year-round residential pest control program covers all of the most common pests, including pantry pests. Don't let pests take over your home and food, give us a call today. We are happy to give you more information about how you can secure professional pantry pest control. Then you can relax, knowing that your home and food is pest-free all year long.