Date Posted: October 24, 2013
Category: Fall Pests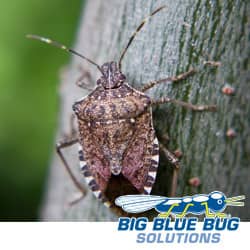 Pest control in Framingham can be a difficult job, especially if you choose to go at it alone. The Framingham exterminators at Big Blue Bug Solutions know that pest control is best managed when you have a year round pest control program on your side. Having annual MA pest control services for your home can be a huge help, especially when dealing with fall pests. Here are just a few of the pests you should be on the lookout for in Framingham and throughout our service area:
Stink bugs: These pests are easily recognized by the triangular or "shield" shape of the plate on their backs. They are approximately 17mm long and they are almost as long as they are wide. Brown marmorated stink bugs (the common species in our area) are different shades of brown and appear brown on the underside as well.
Lady bugs: Also known as ladybird beetles or Asian lady bugs are typically red with black spots, but they may be orange or yellow with black or brown spots as well. They are oval and convex and have the ability to fly.
Rodents: Pests like the house mouse, the roof rat, squirrels and chipmunks can all be problems in Framingham. Typically we come across mice and rats inside the home, but other types of rodents may enter as well.
To protect your home from these nuisance and damaging pests, you can practice a few pest prevention techniques on your own. These tips should help reduce the numbers of fall pests you find in your New England home:
Limit possible pest entry areas in your home by closing up gaps around doors and windows and checking for other possible holes in the exterior of your home. When these gaps are closed up, fewer pests will make it indoors.

Install yellow lights in exterior light fixtures. White lights will attract more insects, while yellow lights are known for attracting fewer flying pests.

Remove rock piles and wood piles from your property. If you must have these piles, keep them as far from your home as possible. Pests like rodents and spiders will find comfortable homes in piles on your property, so eliminating them will force these pests to find other places to live.
For more information on how to get rid of stink bugs and other fall pests, please feel free to contact the New England pest control professionals at Big Blue Bug Solutions. One of our friendly representatives would be happy to discuss our stink bug prevention treatments as well as our Home Owner's Policy, our residential pest control program to keep pests out of your home all year long. For more information on our services or to set up an effective pest control program for your property, contact Big Blue Bug Solutions today!